Omak Student Services
Apply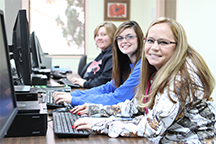 The admissions, registration and financial aid procedures for classes at the Omak campus are the same as for the Wenatchee campus. Staff members are available on campus to assist you.
Counseling
Career and academic counseling, are among services offered to students at the Omak campus.
Student Access Services
Student Access Services (SAS) has been designated by the college as the primary office to guide, coach, and assist students with disabilities. We provides individualized accommodation services to WVC Wenatchee and Omak students with disabilities.
Learning Support Center
The Learning Support Center offers free one-on-one tutoring, study-group facilitation, group instruction and mini-workshops, self-help tutorials, bilingual assistance for Spanish-speaking students, and tutoring in Spanish 101 and 102.